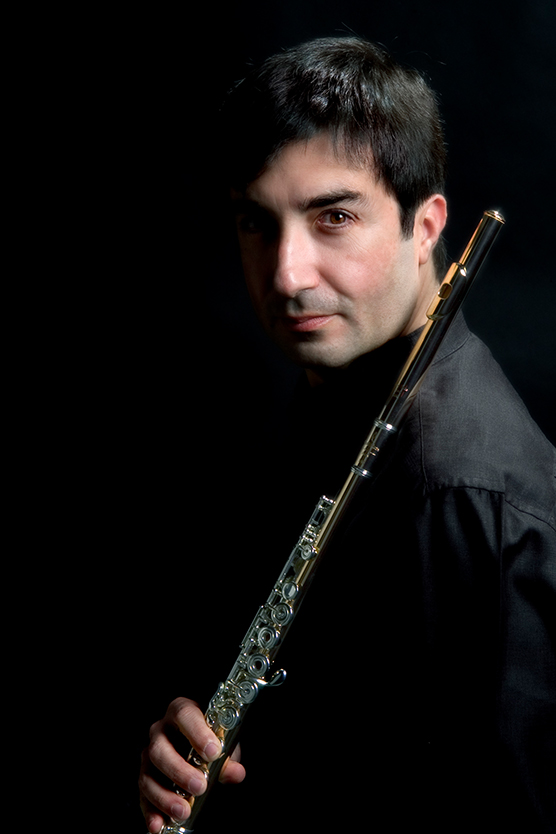 Instruments
Maesta 14K Gold
Profile
Luis Orden was born in Castelldefels (Barcelona) in 1966.
He began his studies on transverse flute at the "Conservatorio Superior de Musica" in Seville at the end of which he was noted with Distinction and awarded with the "Prize of Honour" in Chamber Music; then, he continued his musical career studing with Magdalena Martinez and Wendela van Swool. He also took part in several masterclasses with Raymond Guiot, Robert Dick and Vicens Prats. He has performed in prestigious national and international concerts halls, such as the Teatro Colon in Buenos Aires (Argentina), the Polish Radio Concert Hall in Katowice, the Spanish National Auditorium, the Gugghenheim Museum in Bilbao, the Apolo Theatre in Seville, the International Festival in Ubeda, the Juan March Foundation in Madrid, the Andalusian Centre of Contemporary Art, etc. Now he regularly performs with various chamber groups and orchestra: with Maria http://www.mariaestherguzman.com Esther Guzmán (on a guitar and flute duet); with the Ensemble http://www.solistasdesevilla.com Solistas de Sevilla; the Trio Pleyel; the Orquesta Sinfonica del Principado de Asturias and the Orquesta de Cordoba of which he has been an important guest for many years. Many composers dedicated to him their works, some of them he played as première, as he performed too as premiére many other piecès. Lot of Luis Orden's concerts have been transmitted by the Spanish National Radio; as a multi-talented musician he also recorded various cds. One of them was realized with the sevillan guitarist M. Ester Guzman ( LINDORO- 2004) with works by Robert Beaser, M. Castelnuovo- Tedesco, J.A. Amargos, E.Morales and A.Piazzolla; a second one with the Ensemble Solistas de Sevilla ( CGC Producciones- 2004) with works by M. de Falla, M.Castillo, T.Marco and M.Angel Gris. His latest cd production with the Ensemble Solistas has been presented on November 2005 and it includes works composed by Luis de Pablo and Francisco Guerrero ( SELLO AUTOR, SGAE- 2005) For the recording company "Lindoro" Luis Orden also collaborated in the making of two cds, one with Trio Pleyel ("Variations on- lá ci darem la mano". Beethoven.) the other, playing a live broadcast version of "Hamburger Sonata" by C.Ph. E. Bach. Furthermore he also worked as a player with numerous artists in recording studios realizing cds of various kind of music (flamenco, sevillana, rumba) Now he is Professor of flute at the Conservatorio Superior de Musica Manuel Castillo in Seville. Luis Orden is a new Pearl Flute artist. HYPERLINK http://www.luisorden.com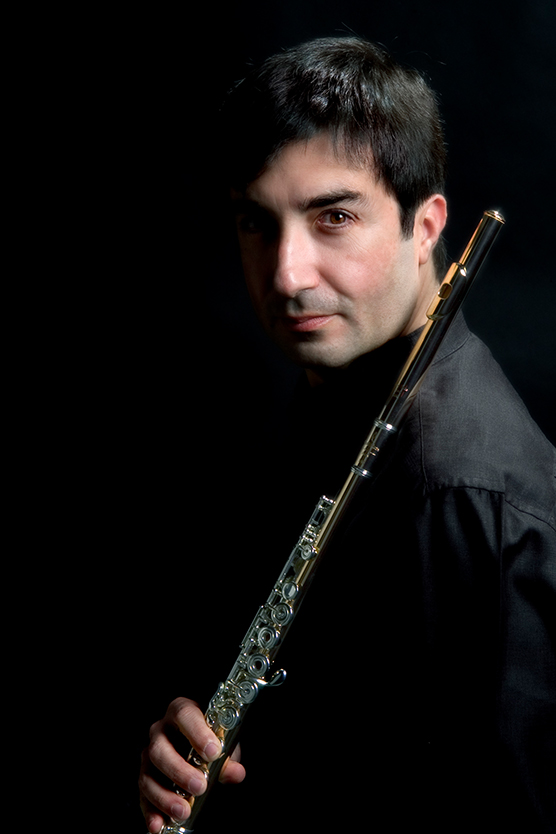 Instruments
Maesta 14K Gold
Profile
Luis Orden was born in Castelldefels (Barcelona) in 1966.
He began his studies on transverse flute at the "Conservatorio Superior de Musica" in Seville at the end of which he was noted with Distinction and awarded with the "Prize of Honour" in Chamber Music; then, he continued his musical career studing with Magdalena Martinez and Wendela van Swool. He also took part in several masterclasses with Raymond Guiot, Robert Dick and Vicens Prats. He has performed in prestigious national and international concerts halls, such as the Teatro Colon in Buenos Aires (Argentina), the Polish Radio Concert Hall in Katowice, the Spanish National Auditorium, the Gugghenheim Museum in Bilbao, the Apolo Theatre in Seville, the International Festival in Ubeda, the Juan March Foundation in Madrid, the Andalusian Centre of Contemporary Art, etc. Now he regularly performs with various chamber groups and orchestra: with Maria http://www.mariaestherguzman.com Esther Guzmán (on a guitar and flute duet); with the Ensemble http://www.solistasdesevilla.com Solistas de Sevilla; the Trio Pleyel; the Orquesta Sinfonica del Principado de Asturias and the Orquesta de Cordoba of which he has been an important guest for many years. Many composers dedicated to him their works, some of them he played as première, as he performed too as premiére many other piecès. Lot of Luis Orden's concerts have been transmitted by the Spanish National Radio; as a multi-talented musician he also recorded various cds. One of them was realized with the sevillan guitarist M. Ester Guzman ( LINDORO- 2004) with works by Robert Beaser, M. Castelnuovo- Tedesco, J.A. Amargos, E.Morales and A.Piazzolla; a second one with the Ensemble Solistas de Sevilla ( CGC Producciones- 2004) with works by M. de Falla, M.Castillo, T.Marco and M.Angel Gris. His latest cd production with the Ensemble Solistas has been presented on November 2005 and it includes works composed by Luis de Pablo and Francisco Guerrero ( SELLO AUTOR, SGAE- 2005) For the recording company "Lindoro" Luis Orden also collaborated in the making of two cds, one with Trio Pleyel ("Variations on- lá ci darem la mano". Beethoven.) the other, playing a live broadcast version of "Hamburger Sonata" by C.Ph. E. Bach. Furthermore he also worked as a player with numerous artists in recording studios realizing cds of various kind of music (flamenco, sevillana, rumba) Now he is Professor of flute at the Conservatorio Superior de Musica Manuel Castillo in Seville. Luis Orden is a new Pearl Flute artist. HYPERLINK http://www.luisorden.com
---