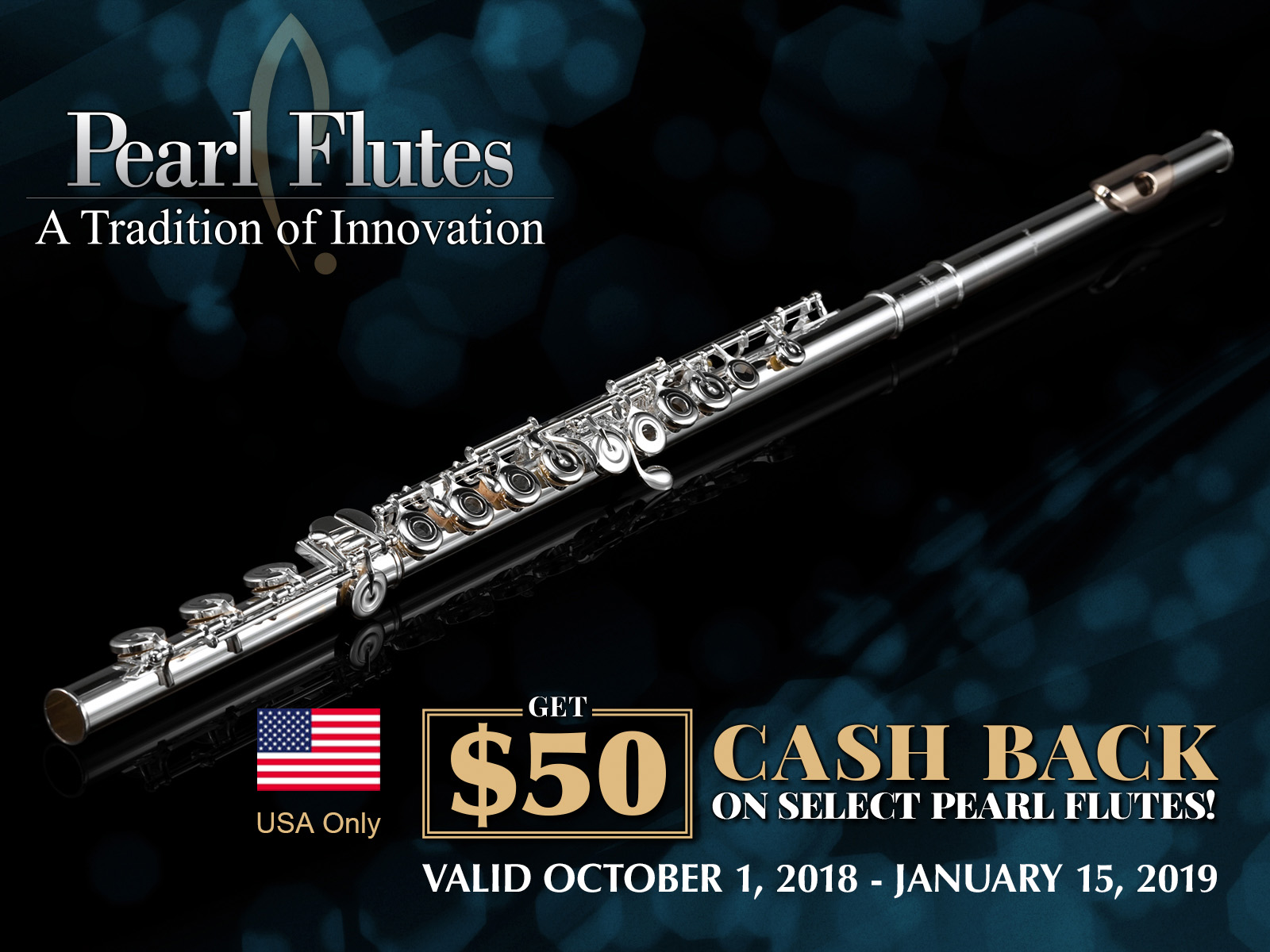 2018/12/04
USA Only - CASH BACK CAMPAIGN
$50 Consumer Rebate for purchases of any New 525/665/765 Pearl Flute purchased from Authorized USA Dealers
between October 1, 2018 and Jan 15, 2019.

The Pearl Flute Quantz Series are world-famous their pro-level performance and durability. Now, Pearl adds even more value with this direct to consumer rebate offer.

The requirements are simple:


BUY: Any New Pearl Quantz Series 525/665/765 Series Flute from an Authorized USA Pearl Flute Dealer between Oct. 1, 2018 and Jan. 15, 2019.
SEND: A completed copy of the Mail in Rebate form along with a copy of the original USA Dealer Receipt
GET: $50 Check in the Mail (in about 6-8 weeks)
This rebate is good on any configuration, new quality Pearl 525/665/765 Quantz Series flute purchased from a USA Dealer. Consumers need to fill out the Mail-In Rebate Form and send it in with a copy of the receipt from the store, and in 6-8 weeks a check will arrive in the mail for $50.

Complete Terms and Restrictions for the $50 rebate can be found on the Mail-In Rebate form. Experience why Pearl Quantz Series Flutes are "Not a Step Up, a Step Ahead" at your favorite Pearl Flute Dealer, and get $50 Cash Back!

Terms and Conditions: Rebate Offer valid only with the purchase of qualified 525/665/765 Pearl Flute models from an Authorized USA Pearl Flute Dealer. Offer only valid in the USA. • Offer only valid on new quality inventory, used instruments do not qualify for this offer. • Products may not be available in all locations. Rebate offers subject to product availability. • Customer name on rebate form and on receipt/invoice MUST be the same. • Street address is required; no P.O. Boxes will be paid. • This offer is for retail purchasers only and excludes commercial, fleet and group purchases along with employee changeovers or warranty replacement purchases. • Receipts/invoices and submissions that are altered, forged, illegible, incomplete or defaced in any way are invalid and will automatically be deemed ineligible. • A separate rebate form must be completed and mailed in a separate envelope with all requested documentation for each purchase. Limit one rebate for each qualified Pearl Flute. If more than one purchase is reflected on a receipt, submit a copy of the receipt for each submission. • Please make copies of your submission as any mailed materials will not be returned. • Pearl Corporation and Pearl Flutes assume no liability for lost, late, damaged, misdirected, or postage-due mail or requests that fail to be properly delivered to the address stated on the order form for any reason. • Illegible or incomplete requests will not be honored. Void where prohibited or restricted. • Sale, trade, assignment or purchase of this rebate form or proof of purchase is prohibited. • WARNING: Use of multiple addresses to obtain additional rebates is considered fraud, will be deemed void and invalidate all submissions, and may result in prosecution under U.S. Mail Fraud Statute (18 USC Sections 1341-1342).
To check the status of your rebate please visit www.rapid-rebates.com or call 1-800-619-4703
---